Retreat Portugal | Summer 2023
A 4 day break from everyday life to help professionals and changemakers take the courage to act on their lifelong dreams.
The Dreambuildrs Retreat is for you if you want to
Stop dreaming ▶︎ Start building
Refresh your mind, body & spirit with stunning surroundings, beautiful nature, adventure, and mindfulness.
Build strong connections, have meaningful conversations and get the mental and emotional support you need to move forward.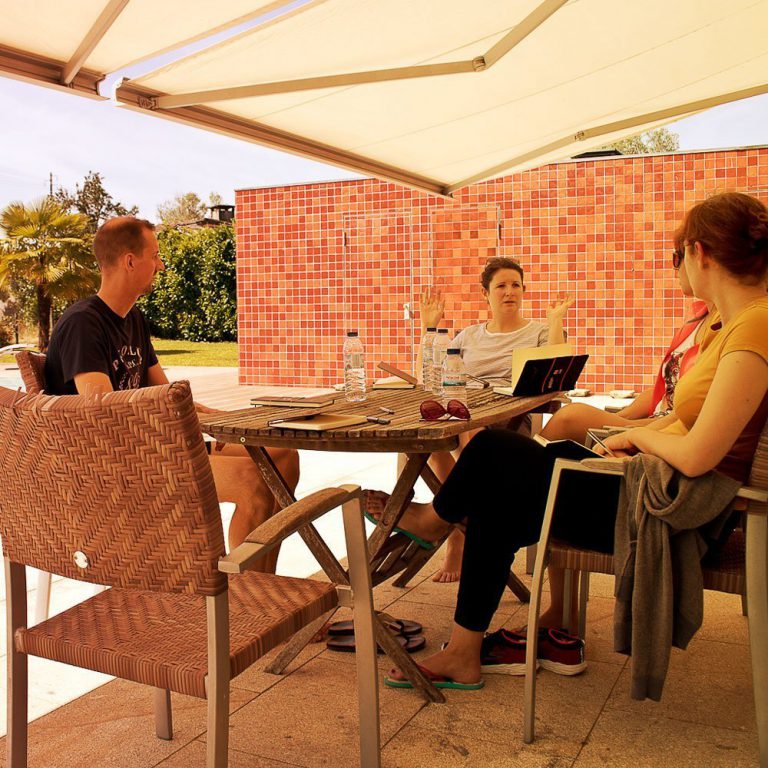 Get a clear plan of action to finally go after your dreams and do what matters to you.
Client love from previous retreats
I found the key to unlock my thinking process stuck for many months. The setting was an invitation for deep relaxation and self-reflection. I appreciated immensely the opportunity to eat healthy, to awaken our bodies and to connect with one another in a gorgeous scenery. Supported by powerful tools, the discussions during the workshops were flowing and led to beautiful surprises for all of us. The Mastermind session helped me find the key to unlock my thinking process stuck for many months.
We support each other's development! To be surrounded by wonderful souls commited to express their truth and allow others to express their full potential and awareness is so powerful that it touches my heart. Together, we support each other's development and we are in an authentic, free and present way to express and enhance our uniqueness.
The Retreat with Dreambuildrs was a really valuable experience. To meet new and interesting people, learn together and, at same time, have a lot of fun in a focused and relaxed environment. For sure I'll keep for the future what I learned with you all. Thank you!
Learning from each other, overcoming yourself, enjoying the company of nice and interesting people, sharing our purpose, and summarizing that, a mindful party, this is what I experienced on the mastermind. You won't lack inspiration to make a step towards your new reality!
Meet your host for the Retreat
Hi, I'm Jochem Doolaard, as a personal leadership expert I guide professionals and changemakers to get unstuck and live out what truly matters to them. 
After 8 years in corporate, I got stuck. But I changed that for life-enriching and meaningful work. Now I help others to live their purpose. It takes courage, but I invite you to step into that great feeling that comes when doing that: waking up feeling excited, knowing that you will make a positive impact.
Displaying logos from clients or partners you work with instantly boost your credibility. Please add your client or partner logos to images > clients + partners in your Google Drive folder. Size: min. 500 x 500 pixel
Here is how you can meet like-minded changemakers!
Dreambuildrs Retreat Portugal
Summer 2023 *date tbc
€
1279
Early Bird Ticket (until 31-12-2022)
4 days of workshops, mastermind hot seats & coaching

3 nights accommodation in a luxury villa with a pool

Guided mindfulness, outdoor + adventure activities

Transportation during the event

BONUS: life-time access to Live Your Purpose Course

Excuded: travel to Porto, lunch & dinner
Detailed Program of your stay